Conferences & seminars
Our conference center: bright, quiet, modern and elegant! The Lechnerhof is your ideal conference center for meetings, seminars and conferences.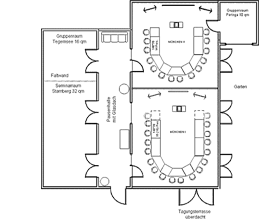 4 meeting rooms on the ground floor
From 16 to 93 square meters, all with direct or indirect daylight, grouped around a central corridor flooded with light. Large space passable.
2 conference terraces – one covered
In our quiet garden you can take a brake.
For lunch or dinner you can enjoy our delicious BBQ Buffet which is always a highlight for the participants.